Usually your Vein Angel is already delivered with Quick Connectors connected. If you only want to use the cuffs included in the scope of delivery, you can therefore disregard this article.
However, if you want to use additional cuffs at the same time, such as leg and belly cuffs or trouser and arm cuffs, the Quick Connectors included in the package will enable you to do so. These allow you to connect any additional accessory cuffs to your Vein Angel.
Tip: after or during an application, simply pull the plugs out of the Quick Connectors to release the pressure from the air chambers very quickly.
Connecting a cuff with a Quick Connector
After you have plugged the cuff connectors to the cuffs (see the article "Connecting the cuff connectors" for more information), connect the multi-plugs of the cuffs to the Quick Connector.
Here too, you should ensure that the multi-plug of the cuff is inserted completely into the Quick Connector and is not crooked.
The two arrows on the multi-connector as well as on the Quick Connector (blue marking on pictures below) will help you here as well. These should point to each other.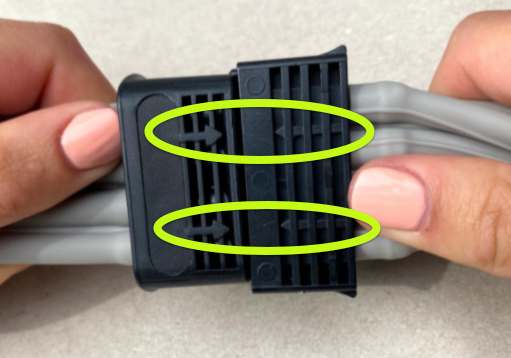 In addition, the additional nipple on the multi-plug must also be plugged into the recess on the Quick Connector.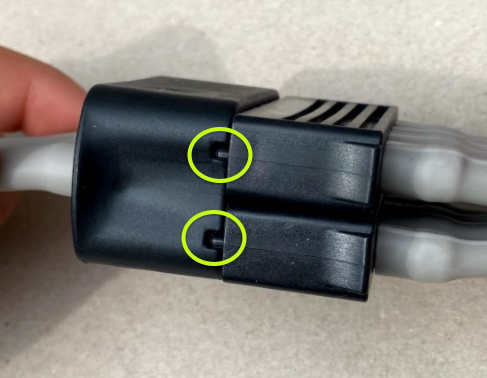 Possible combinations
If you want to use several cuffs, such as leg and abdominal cuffs or trouser and arm cuffs, you must ensure that the cuffs and Quick Connectors are connected correctly. This may require you to insert one Quick Connector into another Quick Connector. In principle, you can combine all accessory cuffs as you wish, but we recommend using a maximum of 4 cuffs simultaneously.
Here you can see how to combine the most popular combination options:
Use leg cuffs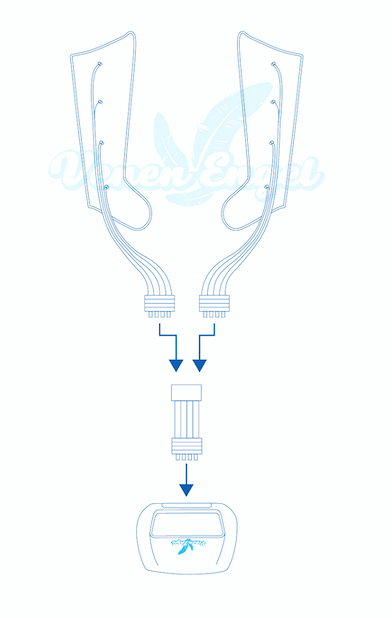 Tip: You can also use a single cuff with your Vein Angel, e.g. only one left leg or only one abdominal cuff. To do this, simply omit the Quick Connector and plug the multi-connector of the cuff directly into the device.
Use leg cuffs and stomach cuff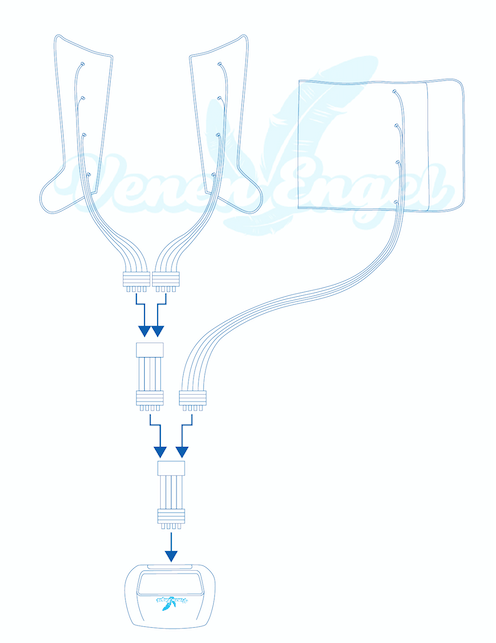 Using leg cuffs and arm cuffs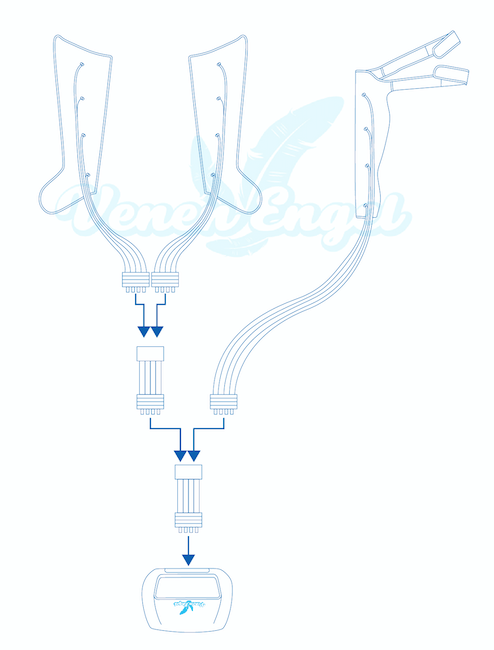 Use trouser cuff and arm cuffs (whole body)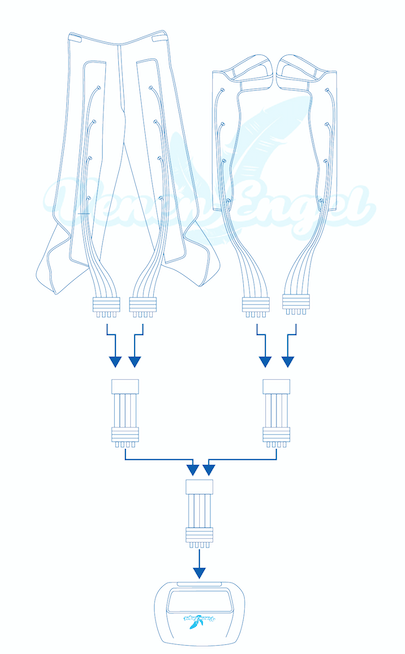 Note: The combination of all cuffs at the same time is possible. However, due to the high load on the circulation, we recommend scheduling the applications one after the other (for example, first the trouser cuff and then the arms).
If you need further assistance with this, please do not hesitate to contact us.
You can reach us
Phone: +49 6661 748 9105
Email: service@venenengel.de
Write us on Whats App