Only the premium and mobile devices offer additional massage programs: Vein Angel 4 Premium, Vein Angel 6 Premium, Vein Angel 6 Mobile, Vein Angel 8 Premium.
There is no such thing as a real massage program. We recommend that you try out different massage programs bit by bit. Especially with the possibility to select different pressure levels and deactivate individual chambers, there are countless possibilities.
In addition to the standard program A, we also recommend program B, as it offers a more intensive massage. If you are in a hurry, we can recommend program C: it pumps according to the same scheme as program A, but since it pumps two chambers at once, you will achieve a higher number of massage cycles in the same time.
Overview of the massage programs
For simplification, all massage sequences are shown on one leg. The massage programs do not differ between arm, belly and trouser cuffs. The same massage sequences are performed here.
Programmes of Vein Angel 4 and Vein Angel 4 Premium:
A: Standard program
B: more intensive leg massage (Vein Angel 4 Premium only)
C: Leg massage for example to relax the muscles (only Vein Angel 4 Premium)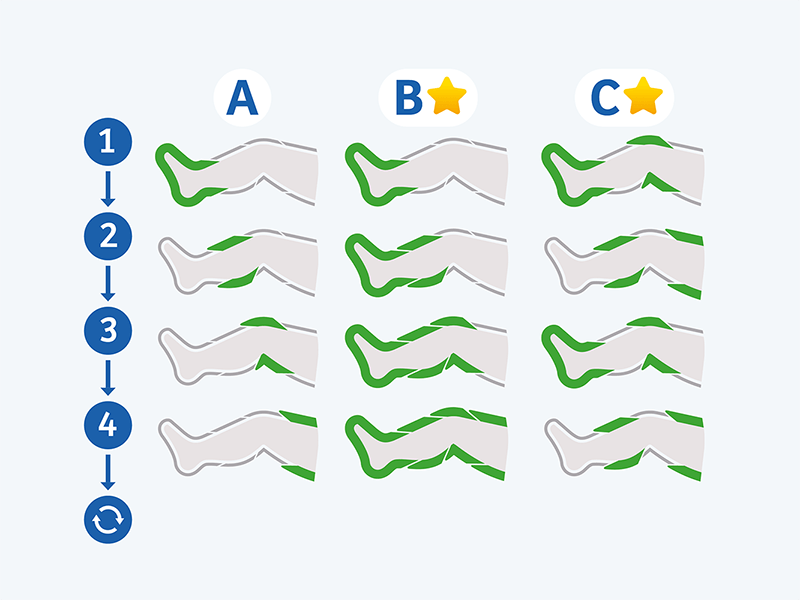 Programmes of Vein Angel 6, Vein Angel 6 Premium and Vein Angel 6 Mobile:
A: Standard program
B: more intensive leg massage (only Vein Angel 6 Premium and Vein Angel 6 Mobile)
C: same scheme as A; faster run of a sequence (Vein Angel 6 Premium and Vein Angel 6 Mobile only)
D: Pressure on the whole leg (Vein Angel 6 Premium and Vein Angel 6 Mobile only)
E: Combination of B and C (Vein Angel 6 Premium only)
F: Combination of A, B and D (Vein Angel 6 Premium only)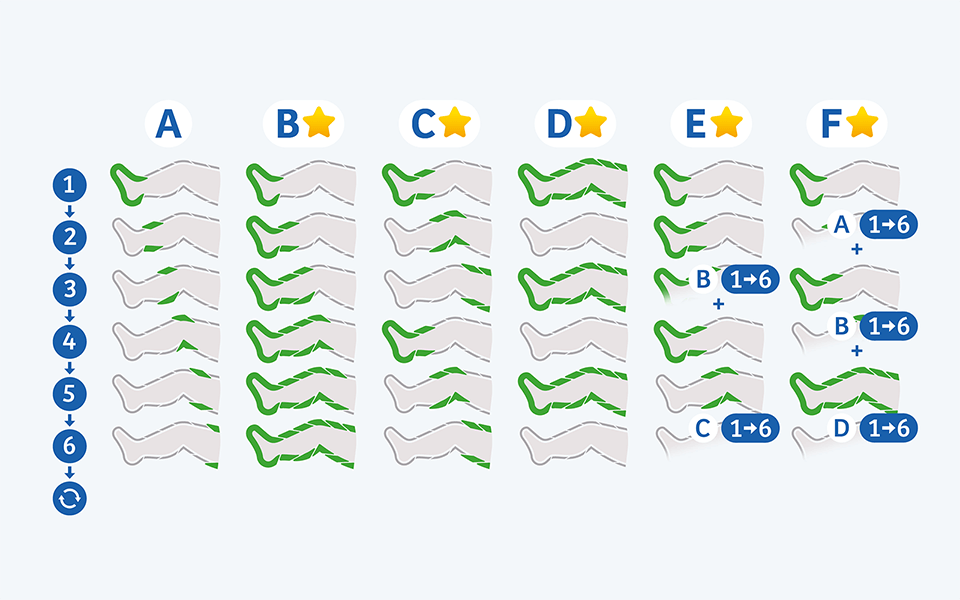 Programs of Vein Angel 8 Premium:
A: Standard program
B: more intensive leg massage
C: same scheme as A; faster run of a sequence
D: Pressure on whole leg
E: Combination of B and C
F: Combination of A, B and D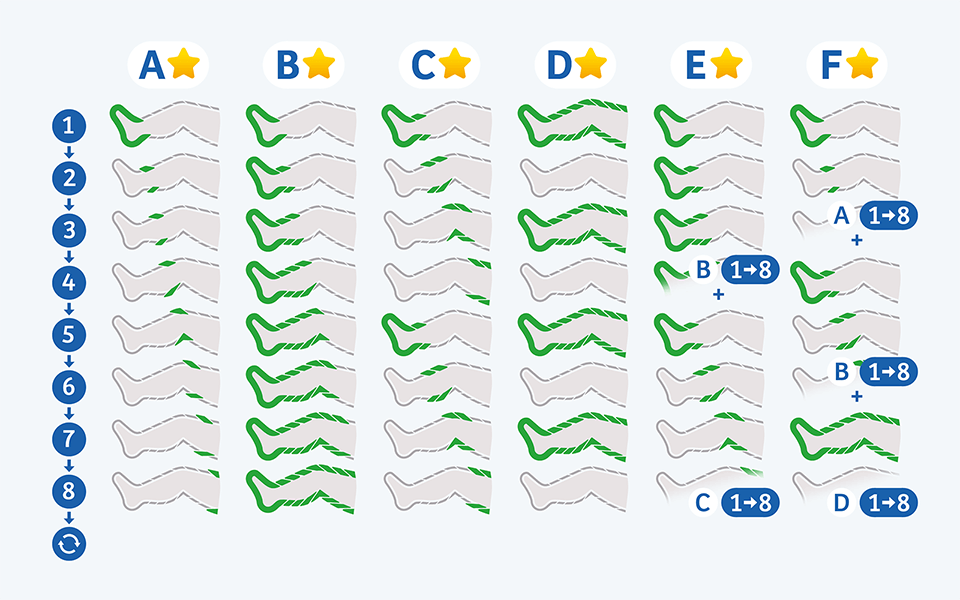 If you need further assistance with this, please do not hesitate to contact us.
You can reach us
Phone: +49 6661 748 9105
Email: service@venenengel.de
Write us on Whats App